Blue Martini, Boca Raton
Here's How the Night Goes Down
Here I'm going to give all kinds of dating tips and pick up stuff as a real night in my life progresses. I think this will help you think like you should in the dating world.
My setting is going to be at the Blue Martini, Boca Raton. My mode is wild tonight, other nights we'll be more sophisticated and mature, not tonight. We're on vacation and we are gonna have fun!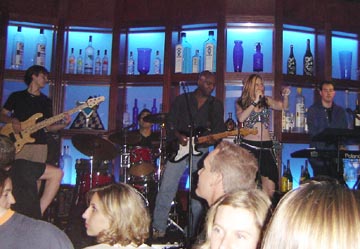 Scan For Prospects
We show up for happy hour at Blue Martini, Boca Raton, my friends John, Jeff and I. We need some personality, as we say, so we start drinking.
My adrenaline is high cause this is where I'm happiest. I scan the room, is she drinking? What? Hard stuff is good, water? forget her. How many of them?
One means a friend is coming or she's a hooker, not my style. Two? Usually the best. I get the hot one, my friend gets the cow. Three? Well there's three of us so we can keep the pack together and work off each other.
By the way, no cock blocking. Your friends need to compliment you in front of women and laugh at your jokes and you the same, even if they're not funny...this helps build a rapport from across the room.
I would much rather go out with single guys that are of use to me than ones that just want to have a beer, stare at women and go home. If you have no such friends than go out alone!
We want chicks that are attractive, drinking, laughing, are looking around and not eating. We do not want women that are huddled like kittens talking about babies.
Remember most women want to have FUN! They didn't come out to stare at each other. If we don't move in another guy will. Rings on fingers means nothing (sad but true ) you make the moral call.
To The Bar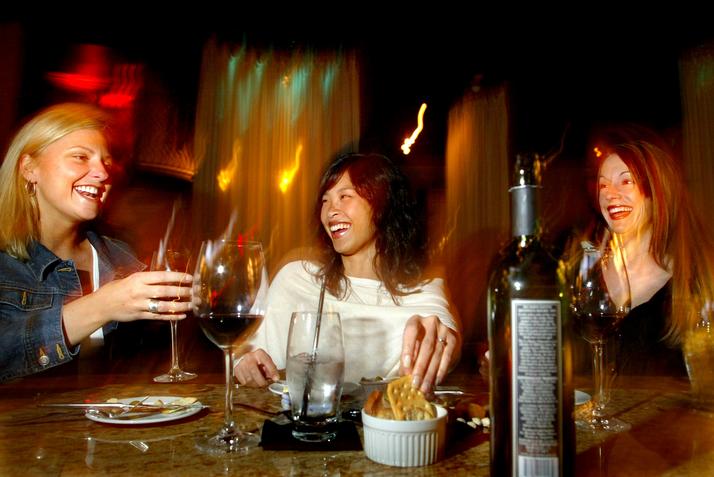 We laugh a lot, this attracts girls. Women love guys that laugh and have a sense of humor. They migrate towards us, I can see it starting to happen.
We act a bit crazy, but not like college kids. I draw things on napkins and show girls from across the room sometimes. It's funny and women get curious.
Dance a little maybe, but keep eye contact towards the women that are noticing you. Don't exclude them. They might even be making fun of you, that's ok, we'll deal with that later. Right now I just want attention, positive or negative.
---
Discover How You Can Approach Any Woman And Know Exactly How To Create An Uncontrollable Physical Attraction In Her Despite Your Age, Looks And Income.
It's all here for your review Dating Dominance
---
Great they're at the bar.
Now I can approach them for a reason, we need drinks. A table is tougher, takes more confidence but doable. Your options are now endless and here's where the fun begins!
Pick Up Line
I'll give you a couple choices:
"Hi girls we're doing shots, you in?" If they say no, say hi and introduce you and your friends, don't walk away like a hurt poodle.
or
"Hi girls I got deal for you" ( say confidently and look them in their eyes, loud enough so you don't need to repeat) "Let us hang, we'll buy all the drinks, and we'll never say a word."
Women love this, they're so shocked cause it's funny and crazy. I'll guarantee they will laugh and you're in.
You see you just secured the first critical seconds meeting a woman. She laughed and forgot that she's getting hit on. Now say hi and introduce yourself and friends. Don't worry you won't be buying all their drinks...make your friends do it, Hah!!
Rinse. Repeat.
If you crash and burn, give yourself a pat on the back for trying and do it again. Pick up artists can handle rejection, in fact it makes them even better at their trade!
Say to yourself, I'm gonna go after 5 sets of girls. This will guarantee you'll at least be getting to know a few friends.
Chances are better you'll be getting laid. The loser is that guy in the corner that never talks to anyone.
To The Dance Floor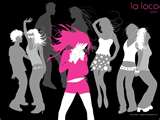 The night moves on, we move to the dance floor. Huh? there are 90% women out there dancing. Big surprise!
Learn to dance.
This is another overlooked fact. Women dance guys don't. Why? Is it not macho? Screw that!
Practice at home with dvd's or take a class and meet some girls. learn to dance, women love guys that dance. (effectively)
I'll start dancing, my friends might to, not with each other but in our own space. I attract so many girls this way and I never open my mouth.
It work's. Trust me. I'm not getting girls with my looks. I'm just an average looking middle aged guy. You don't have to be Usher, just a descent dancer.
Furthermore, you will attract multiple girls by dancing that see you and your friends. Notice who they are as they will help you later if your first set falls out. Women notice who the fun guys are in the room and the fun guys dance!
Get a Table
Getting a VIP table makes sense here's why. It's a home base to bring girls and it makes you look important. It's also cost effective; What 150 bucks for a bottle of Goose?
Yeah, divide that by three now your drinking all night for 50 bucks plus all the mixers are free, and you get your own waitress and bouncer.
The bouncer allows you to separate yourself from other annoying guys trying to hit on your girl...Perfect. Call a couple nights before to reserve. Once there, you'll meet the VIP dude and then next time, usually, you can get the table that night.
Qualify
Ah nice! We're dancing and other girls are joining us, we ask them to come back to our table.
It's a no brainer. Now qualify, is this girl a friend? a hook up for the night? or someone you want to date? Ask if she has a boyfriend.
Tell her you like her, not love her, and why. If she doesn't jump all over you that's ok, don't dis her. But don't keep her hanging around.
This is a huge and common mistake guys make. They meet a girl who they like but have no chance in the immediate evening to hook up with.
They continue to keep them around. At the end of the night they say something like "I had fun but she's got a boyfriend"...Loser.
Get there number, tell them "sorry but I'm out to meet someone single tonight." Now move on to another girl that noticed you on the dance floor earlier.
Oh and don't be surprised if the girl stays with you. You see you just played the "aloof card" and qualified her at the same time...nice move dog.
Now here's the reason you do get the number and not dismiss her. Remember a true friend pays dividends in spades in the future.
She has other friends that you'll get to know and ultimately she's gonna want to sleep with you anyway (cause you're soo cool...you dog!)
Close the Deal
The night wraps up, make sure you ask the girl you've decided on to party or for her number early, not when the lights go on. A classic mistake is waiting till the end when it get' s too frantic. Don't be a baby, this chick likes you, ask her out!
We now have girls we're taking home or meeting the next night or next weekend. We got pics with our iphones. Life is good!
Rinse. Repeat.